Below are some recent papers that have been published by our community (BCMM members shown in bold). View a complete list of all publications by BCMM members on Dimensions.
2021
Aline Dionizio, Dawud Abduweli Uyghurturk, Carina Guimarães Souza Melo, Isabela Tomazini Sabino-Arias, Tamara Teodoro Araujo, Talita Mendes Silva Ventura, Juliana Vanessa Colombo Martins Perles, Jacqueline Nelisis Zanoni, Pamela Den Besten, Marília Afonso Rabelo Buzalaf. Chemosphere, 2021.
2020
Matt S Zinter, Caroline Lindemans, Birgitta Versluys, Madeline Y Mayday, Sara Sunshine, Gustavo Reyes, Marina Sirota, Anil Sapru, Michael A Matthay, Sandhya Kharbanda, Christopher C Dvorak, Jaap Jan Jan Boelens, Joseph L DeRisi. Blood, 2020.
AK Pröbstel, X Zhou, R Baumann, S Wischnewski, M Kutza, OL Rojas, K Sellrie, A Bischof, K Kim, A Ramesh, R Dandekar, AL Greenfield, RD Schubert, JE Bisanz, S Vistnes, K Khaleghi, J Landefeld, G Kirkish, F Liesche-Starnecker, V Ramaglia, S Singh, EB Tran, P Barba, K Zorn, J Oechtering, K Forsberg, LR Shiow, RG Henry, J Graves, BAC Cree, SL Hauser, J Kuhle, JM Gelfand, PM Andersen, J Schlege, PJ Turnbaugh, PH Seeberger, JL Gommerman, MR Wilson, L Schirmer, SE Baranzini. Science Immunology, 2020. 
P Kamarajan, I Ateia, JM Shin, JC Fenno, C Le, L Zhan, A Chang, R Darveau, YL Kapila. PLOS Pathogens, 2020. Read press release.
 
Radaic A, Ye C, Parks B, Gao L, Kuraji R, Malone E, Kamarajan P, Zhan L, Kapila YL. J Oral Microbiol. 2020 Aug 24;12(1):1809302.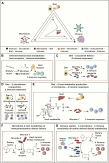 Margaret Alexander, Peter J.Turnbaugh. Immunity, 2020 Aug 18; 53(2).
The iMSMS Consortium (SE Baranzini). Multiple Sclerosis Journal, 2020.
 
Li Gao, Misun Kang, Martin Jinye Zhang, M. Reza Sailani, Ryutaro Kuraji, April Martinez, Changchang Ye, Pachiyappan Kamarajan, Charles Le, Ling Zhan, Hélène Rangé, Sunita P. Ho & Yvonne L. Kapila. npj Biofilms and Microbiomes, 2020
 
Chloe E. Atreya, Peter J. Turnbaugh. Science, 2020
 
Qi Yan Ang, Margaret Alexander, John C. Newman, Yuan Tian, Jingwei Cai, Vaibhav Upadhyay, Jessie A.Turnbaugh, Eric Verdin, Kevin D. Hall, Rudolph L.Leibel, Eric Ravussin, Michael Rosenbaum, Andrew D.Patterson, Peter J.Turnbaugh. Cell, 2020
 
Ling Zou,  Peter Spanogiannopoulos, Lindsey M. Pieper, Huan-Chieh Chien, Wenlong Cai,  Natalia Khuri,  Joshua Pottel, Bianca Vora, Zhanglin Ni, Eleftheria Tsakalozou,  Wenjun Zhang, Brian K. Shoichet,  Kathleen M. Giacomini, and  Peter J. Turnbaugh. Proceedings of the National Academy of Sciences, 2020
 
JE Bisanz, P Soto-Perez, C Noecker, AA Aksenov, KN Lam, GE Kenney, EN Bess, HJ Haiser, TS Kyaw, FB Yu, VM Rekdal, CWY Ha, S Devkota, EP Balskus, PC Dorrestein, E Allen-Vercoe, PJ Turnbaugh. Cell Host and Microbe, 2020
P.H. Bradley, K.S. Pollard. Bioinformatics, 2020
Rackaityte E, Halkias J, Fukui EM, Mendoza VF, Hayzelden C, Crawford ED, Fujimura KE, Burt TD, Lynch SV. Nature Medicine, 2020
 
Bess EN, Bisanz JE, Yarza F, Bustion A, Rich BE, Li X, Kitamura S, Waligurski E, Ang QY, Alba DL, Spanogiannopoulos P, Nayfach S, Koliwad SK, Wolan DW, Franke AA, Turnbaugh PJ. Nature Microbiology, 2020
 
2019
Leech JM, Dhariwala MO, Lowe MM, Chu K, Merana GR, Cornuot C, Weckel A, Ma JM, Leitner EG, Gonzalez JR, Vasquez KS, Diep BA, Scharschmidt TC. Cell Host & Microbe, 2019
 
Levan, S.R., Stamnes, K.A., Lin, D.L., Panzer A.R., Fukui E., McCauley K, Fujimura KE, McKean M, Ownby DR, Zoratti EM, Boushey HA, Cabana MD, Johnson CC, Lynch SV. Nature Microbiology, 2019
N.G. Garud and K.S. Pollard. Trends in Genetics, 2019
 
A. Almeida, S. Nayfach, M. Boland, F. Strozzi, M. Beracochea, Z.J. Shi, K.S. Pollard, D.H. Parks, P. Hugenholtz, N. Segata, N.C. Kyrpides, R.D. Finn. BioRxiv, 2019
 
M. Roodgar, B.H. Good, N.R. Garud, S. Martis, M. Avula, W. Zhou, S. Lancaster, H. Lee, A. Babveyh, S. Nesamoney, K.S. Pollard, M.P. Snyder. BioRxiv, 2019
 
Carmody RN, Bisanz JE, Bowen BP, Maurice CF, Lyalina S, Louie KB, Treen D, Chadaideh KS, Maini Rekdal V, Bess EN, Spanogiannopoulos P, Ang QY, Bauer KC, Balon TW, Pollard KS, Northen TR, Turnbaugh PJ. Nature Microbiology, 2019
 
Soto-Perez P, Bisanz JE, Berry JD, Lam KN, Bondy-Denomy J, Turnbaugh PJ. Cell Host Microbe, 2019
 
Rojas OL, Pröbstel AK, Porfilio EA, Wang AA, Charabati M, Sun T, Lee DSW, Galicia G, Ramaglia V, Ward LA, Leung LYT, Najafi G, Khaleghi K, Garcillán B, Li A, Besla R, Naouar I, Cao EY, Chiaranunt P, Burrows K, Robinson HG, Allanach JR, Yam J, Luck H, Campbell DJ, Allman D, Brooks DG, Tomura M, Baumann R, Zamvil SS, Bar-Or A, Horwitz MS, Winer DA, Mortha A, Mackay F, Prat A, Osborne LC, Robbins C, Baranzini SE, Gommerman JL. Cell, 2019